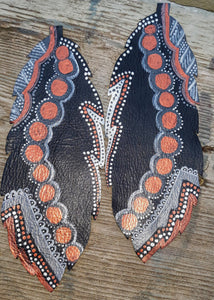 Dramatically different; these custom, hand-painted, up-cycled leather feather earrings are sure to get you noticed!!
Rescued from a couch that had already met its demise, this leather has been cleaned, up-cycled and revitalized into this amazing gem.
Not ready for attention? Then, you may want to pass these up until you're boss enough to rock them.
The amount of attention you'll receive is enough to make you feel like you're rocking the runway ALL DAY!!